A Smile York St Dental is a family run dental surgery serving the Manning Valley, located in Taree on the Mid North Coast of NSW.
Dr Ralf Freier offers the latest in dental  technology. We can mill and place crowns in a  single appointment, detect tooth decay earlier  through laser technology and provide in-house 3D X-rays. We're also a preferred provider for HCF. Discover the re-assurance of a friendly, experienced and modern practice offering you the best possible assessment and treatment.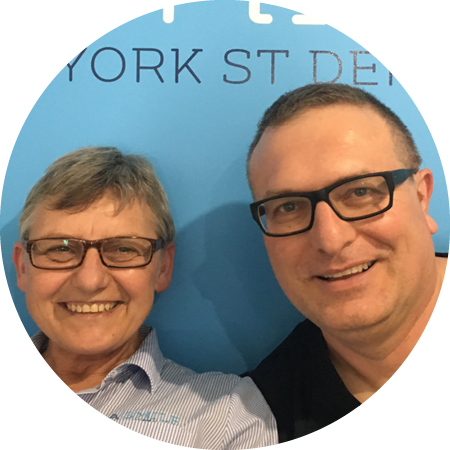 Dr Ralf Freier PhD and Barbara Bryson
Ralf Freier and his wife Barbara moved into the Manning Great Lakes region from southern Germany in 2013, along with their teenage son. Since establishing themselves here they have found the locals to be most welcoming and have made many new friends. They now see the Manning Valley as being their permanent home. Ralf received his PhD in Dentistry at the University of Ulm, one of Germany's leading technology hubs. He and Barbara ran a successful dental clinic for fifteen years before moving to Australia. Ralf sees many great opportunities in setting up his own practice in Taree. His knowledge and passion for dentistry, along with his unique state-of-the-art techniques, are a welcome addition to local dental health.
Ralf and Barbara enjoy working as a team. Barbara believes that Ralf's expertise and talent as a dentist is her driving force. She describe's herself as his "cheerleader". Ralf acknowledges that Barbara's great energy and organisational skills are integral to running a successful practice. Together they make a formidable team as they bring their expertise to the people of the Manning Region in the heart of Taree.
Locally owned and operated
31 YORK ST, TAREE
Opening Hours:
Mon-Fri 8.30am – 5.30pm
Saturday – by appointment only